Coral Beach Lodge – the award winning hostel
Coral Beach Lodge was born in 2015 when renovations on the historic hostel, Port O'Call commenced.
Port Douglas's highest quality hostel offers excellent dorms and sensationally appointed private accommodation. All of our 28 rooms have private attached bathrooms, lockable storage and free in-room WiFi access.
Surrounded by trees and located just 5 minutes from the beautiful 4-Mile Beach, Coral Beach Lodge is perfectly located. Strolling into Port Douglas village takes 12 minutes, the Yacht Club 6 minutes and the local Sushi take-away 1 minute.
The dedicated team of Coral Beach Lodge have traveled the length and breadth of this planet to bring you the very best in low priced accommodation and the best advice in touring the region or snorkeling / diving the reef.
Over the past year the press, our peers and the travelers have voted us:
Winner of the YHA's Best Medium Size Hostel in Australia and Best Hostel in Queensland in 2014 & 2015
Winner of Trip Adviser 2014 & 2015 Certificate of Excellence
Number 1 recommendation in the Lonely Planet 2016 for accommodation in Port Douglas
Voted Port Douglas Best Visitor Information 2015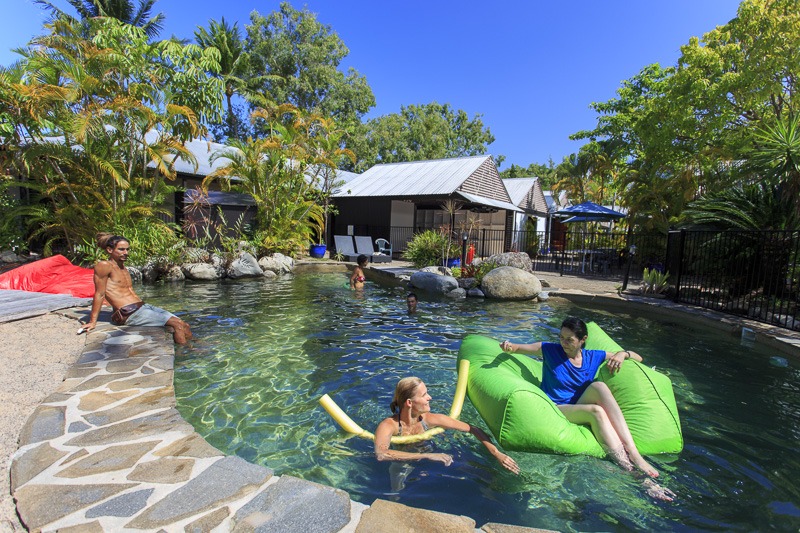 It is a very, very, very good hostel.

I rented a car and drove from Cairns to Port Douglas because fellow travellers I met in other parts of Australia strongly recommended the Coral Beach Lodge, and I'm ever so happy to have taken the advice.

Rooms are clean, beds are good, nice kitchen, bbq, wifi, pool, parking, … and most importantly great great staff!

Keep however in mind that it is still a hostel, as good as it may be. If you are looking for a 5 star Hotel, please book (and pay) for one, as it wouldn't be a fair benchmark when reviewing the Coral Beach Hostel.

I would definitely go back, and would recommend it anytime to anyone.

Phil
I stayed in a private double room, which was nicer than at a few motels I've seen: spacious, large bed, night lamps with warm light bulbs, large TV. There was a hammock outside the room, but sadly I didn't have time to use it. The hostel has a couple of common sitting areas, a table tennis table and a pool.
I stayed there for almost 2 weeks and was very comfortable. I had a tv and air conditioning in a private room, there were great cooking facilities and a nice swimming pool.
The owners there are extremely friendly were so helpful with recommending places to look for work and to visit.
Very affordable place, Couldn't recommended highly enough!
One of the best hostels we have stayed in in Australia. Extremely good value for money. We got a private room (for the same price as a dorm in other hostels) and had our own bathroom and fridge in a nice and spacious room. Everything was clean and there was a nice pool.
Everything is organised and clean, beautiful pool and the staff members are the best of all…they are amazing….loved it!
Perfect hostel, they have really thought of everything (even plugs in the lockers for example), the staff is super nice and helpful and they make your stay as comfortable as possible. I arrived out of office hours of the reception and they left me an envelope to welcome me and with all the information I needed (even a map of the hostel to locate my room and a map of the town were included). You can sit outside your (dorm)room (or lay in the hammock), pick mango's from the tree and bbq near the outdoor kitchen. Totally loved it! Would recommend it to everyone.
I stayed at Coral Beach for 5 nights in a room which was more like a mini apartment. The room was clean, fresh , quiet and comfortable. The staff are very warm and friendly people who make you feel very welcome and do all they can to help – they love their job. Good organisation, clean enough and nice kitchen, beautiful swimming pool and areas. The wifi was excellent. A great place to stay when visiting Port Douglas. I was sad to leave and I will definitely go back to this: Lovely place, Peaceful place, PARADISE !